Sandra Humphries Gallery
"Be Still Like a Mountain"
oil on canvas, 48 x 60
If you are in Albuquerque,
please call for a visit to my home/studio
505 256-0607
I am honored that my painting "Cottonwoods" was chosen for
Watercolor USA 2015, Springfield Art Museum, June 6- August 23.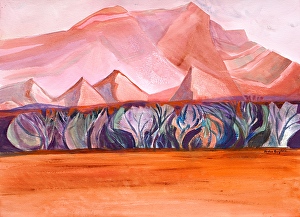 Be sure to visit MasterWorks, a juried exhibition at Expo NM, April 4 - 25, 2015, with the opening reception on April 3, from 5 - 8pm. My watercolor "Aspen Symphony" was choosen for this show.